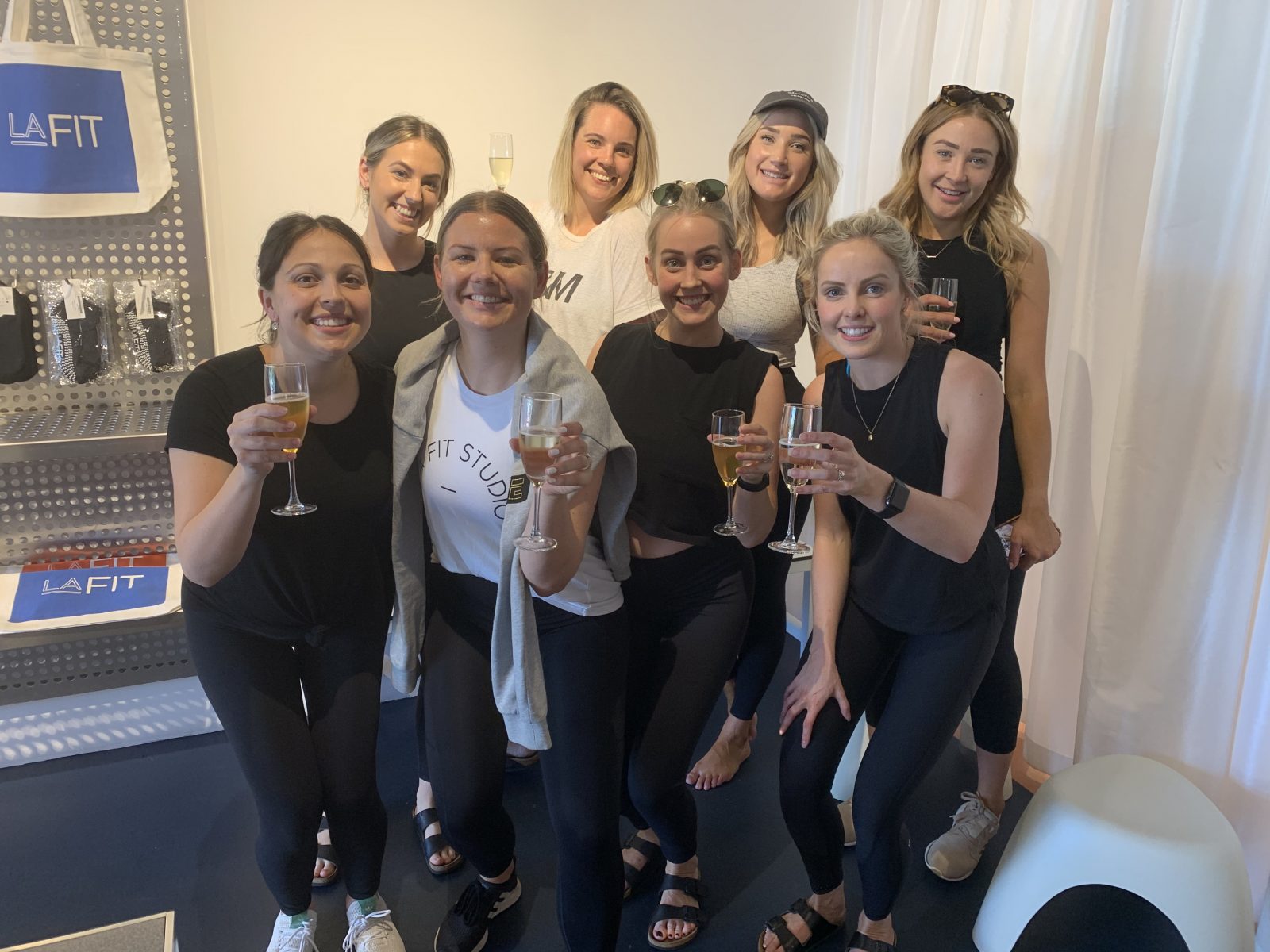 We would love to give a BIG high five to our member Kelly Harper who has made it to Club 500!
What's Club 500? It's for LA Fit members who have completed 500 classes. Kelly is actually up to her 538 class. That's a hell of a lot of four-second burns and tapbacks and we couldn't be more proud! To celebrate Club 500, Kel rounded up her besties for a private Megaformer class in November to show them what LA Fit is all about.
A lot can change in 538 classes. And we have seen Kelly come back week after week, wowing us all with her commitment and consistency. 
We chat to Kelly about her LA Fit journey, and how she stays motivated and keeps coming back.
Congratulations on joining the 500 Club! What an achievement – it's no easy feat. How do you feel?
I kind of don't believe it. I guess LA Fit has just become a part of my life and routine that I forget how long I have been coming and then how many classes that equates to. But yeah, it feels pretty amazing!
Tell us all about your LA Fit journey. Why did you join? What was it like in the beginning? And how has your fitness improved after 500 classes?
I remember driving past Subiaco and seeing the studio and thinking that it looked so cool. After checking online and seeing the intro offer, I signed up and then after 3 classes I was well and truly hooked. I've never looked back!
The beginning was crazy, I just remember being in my first class with Kel and wondering what do all these names mean and how best to use the springs — how am I ever going to make sense of it all?! And don't get me started on those shakes and that burn, it was like nothing else I had ever experienced whilst working out.
I definitely think my physical and mental strength has improved since starting all those years ago. Learning how to embrace the discomfort and sit in it has been something I have really developed over the last few years and how to increase the intensity in different ways. I still have days when I am stronger than others in class but love that every class feels like a challenge and a chance to improve.
What do you enjoy about being a part of the LA Fit community?
That is a tough one as there are so many things, but I would definitely have to say the instructors. Everyone has such unique elements to their teaching and it is always so interesting to attend different classes and learn different tips and tricks. Not to mention everyone is so friendly and every time I walk into either studio, I always feel so welcomed. 
If you had to use three words to describe LA Fit, what would they be?
Fun. Sweaty. Motivating.
Seeing as you've completed 538 classes (wow), can you share a secret (or three) on staying motivated and consistent with your training?
I think for me it's been finally finding a form of exercise that I really enjoy and am passionate about. Whilst the lagree method remains the same, every class is so different and there are always opportunities for new challenges. I also really enjoy seeing the changes in my body but also my abilities and strength in the classes increase.
I love the mindfulness you can achieve in class because you need to be present in the move and really think about how you are moving. It's nice in amongst a busy day to take time to connect with your body.
We love that you've been coming to Ride! What are you loving about class? Do you love being able to mix it up with more cardio?
YES! I am absolutely loving Ride and getting that cardio high from my workouts! It is really nice to do something that gets the heart racing and the epic playlists always make it so much fun. Although, I think my coordination and managing to Ride on the beat still needs some work, haha!
Thank you! And Congratulations!