Press
Channel 9 News
LA Fit's reopening and our Rona Rebound in June 2020 made the nightly news! Check out Claire and the team below.
Since LA Fit burst onto the Perth scene five years ago, owners Claire Chidgzey and Jaye Cuypers have grown the fitness studio to two thriving locations… READ MORE HERE
THE WEST AUSTRALIAN
Entity Health research shows 80 per cent of Australians under 40 reported feeling stressed. Check out what our instructor, Kaity, had to say about self care for Millennials.  READ MORE HERE.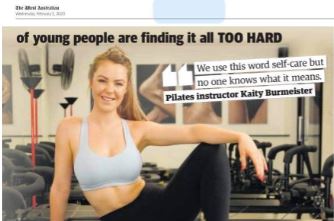 The Court Hotel hosted the opening of LA Fit Studio's 'Ride with KTX' sessions to kick off the week, with more 100 cyclers joining in on the action throughout the day. READ MORE HERE
Let's just lay it all out on the table: Megaformer workouts burn tons of calories… And plenty of A-listers like Chrissy Teigen, Meghan Markle, Jennifer Aniston and Michelle Obama swear by the core-crushing, total-body sweat session. READ MORE HERE

Fitness booking app ClassPass analyzed more than 100 million workouts to determine that the Megaformer workout was the fastest-growing fitness trend in America. READ MORE HERE
#3 LA Fit runs one of the most effective workouts ever out of their Subiaco and Highgate studios. READ MORE HERE
Lagree: Already a massive hit in London and LA, Lagree is about to change the way you sweat. READ MORE HERE