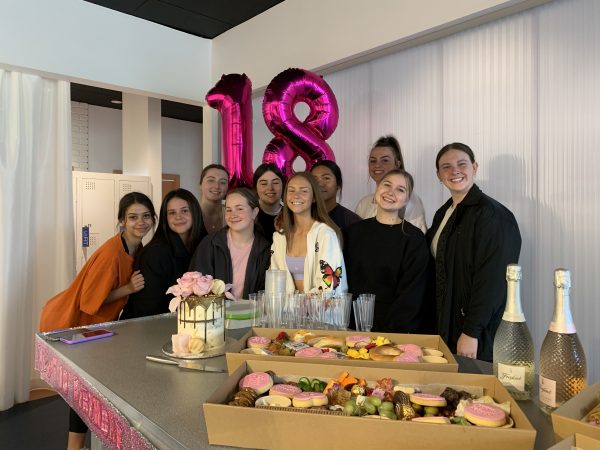 Our gorgeous member Madi recently turned 18 and what better place to celebrate than her happy place!
Madi rounded up her besties and booked a private Megaformer class. The girls enjoyed a sweat sesh with Jaz before tucking into sweet treats n bubbles.
We had the best time celebrating… Happy Birthday Madi! We took 5 to chat with Madi about her birthday and lovin' LA Fit.

What do you love about LA Fit? 
I love pretty much everything about LA Fit! The staff and instructors are absolutely amazing and such gorgeous people to motivate you and help on your fitness journey.
Every time I come to class I always leave happy 🙂  Even when I'm having a hard day coming to class is pretty much a place where I can forget about what happened during the day. It's a time where I can relax and focus on myself and my wellbeing.
Every class is always different and each instructor brings such amazing qualities which make the environment and atmosphere 100 times better.
Now that you're 18… what are you excited to do in Perth?
I'm super excited now that I'm able to go out and get drinks with my friends and of course with Mum, since she does pay for my membership at LA Fit – love you mum! 
We know how much you love Lagree Fitness. Which move do you absolutely love in Mega?
I absolutely love plank to pike and giant reverse crunch… pretty much anything core related.
And… what about the ones that hurt the most? 
Deadlifts and skaters. They kill me!
Since we reopened, you've been hitting the bike. What makes you keep coming back to Ride?

Oh I love Ride! The classes are super hard but I overall feel so proud that I can last a whole 45 minutes on a bike without fully dying. The atmosphere in every Ride class is amazing… the music and energy really help make the class easier… when it's really not! 
You are well on your way to 300 classes. Super exciting! What makes you so motivated?
There are so many things that make me motivated. The support I receive when coming to class from all instructors, the huge amounts of fun and enjoyment I have during the classes and the overall reward of feeling strong and fit.
Fancy celebrating something spesh at your Happy Place? 
GET IN TOUCH